Regie Williams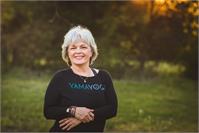 I am a 200 Hr Registered Yoga Teacher. I completed my training May 2016. I fell in love with yoga after moving to East Texas in 2013 and discovering Yama Yoga Studio. Previous to the move I spent five mornings a week in the gym weight training. Discovering yoga opened a world of physical and mental well-being and better overall health. Yin yoga is my new passion; enhancing balance and flexibility. My husband and I live on a Peach Farm with three dogs, a cat, ducks, and occasionally three grandchildren. I enjoy anything outdoors; archery, the beach, camping, plus cooking, needlepoint, and tending to my flowers.
Regie Williams instructs the following:
Yoga Stretch is a gentle class with a slow pace. Students will move through a series of poses to loosen the entire body and develop flexibility. This class is appropriate for students of all levels, and incorporates breathing exercises, sun salutations, and often a brief, guided meditation.




Yin Yoga is a slow-paced, meditative style of yoga where poses are held for longer periods of time with the intention to cultivate inner silence and bring awareness to the mind and body.