Summer Smith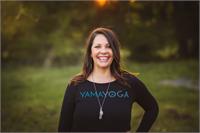 I am an E-RYT yoga teacher and the owner of Yama Yoga Studio in Canton where I live with my husband and 5 boys. I opened Yama Yoga Studio in 2006 after receiving my 200 HR certification and became a RYS (registered yoga school) in 2010. My style is heavily influenced by Vinyasa Flow, paying close attention to alignment and form. My true love is in the healing arts. Stretch, Nidra and Restorative classes are my specialty. I have a love of yoga philosophy and the tradition of using malas and mantras for transformation. My classes are challenging but playful. I love working in the garden, attending yoga workshops and trainings and spending time with my family and friends.
Summer Smith instructs the following:
Yoga Stretch is a gentle class with a slow pace. Students will move through a series of poses to loosen the entire body and develop flexibility. This class is appropriate for students of all levels, and incorporates breathing exercises, sun salutations, and often a brief, guided meditation.




Beginner Yoga will take the practitioner through the basics of yoga. You will learn sun salutations and a manageable pace, giving you a strong foundation and understanding of breath, language, pace and proper yoga posture (asana) breakdown.We will incorporate standing, seated and reclined postures.




This workshop teaches profound gratitude; allowing you to see the gifts encased in obstacles. Working through gentle heart-opening stretches will bring you to a place of appreciation, where the benefit of essential oils can work its magic.

Lemon inspires joyful involvement in the present moment.
Wild orange reminds us of abundance
Sandalwood inspires individuals to assess where their heart truly rests

"If you only have one breath left, use it to say thank you."

-Pam Brown

Cost: $15/person




A challenging class where we practice Sun Salutations combined with challenging sequences meant to increase flexibility, strength, and stamina. This class is heated and fast paced and will explore inversions and arm balances.